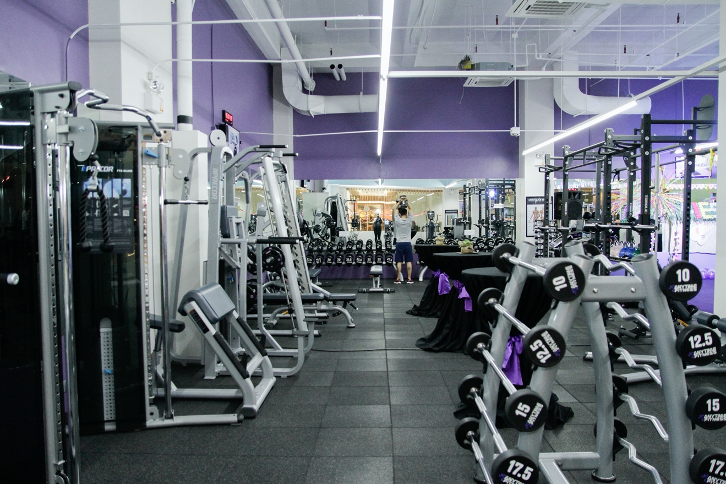 The positive announcement of Singapore diving into phase 2 of the circuit breaker reopening brought about relief for not only food & beverages owners, but gym owners as well. Gyms are now permitted to resume their operations, taking a step towards normality. However, the favourable decision made by the authority does not signify that it is time for Singaporeans to slack off. In fact, even with the 'loosen guidelines', it is even more vital for gym owners to uphold good hygiene habits and facilitate a safe transition for both their staff and users. To steer clear of a second wave, or possibly third and fourth wave, hygiene should remain as everyone's top-of-mind priority in the unmeasurable future.
As part of the practices and measures put in place to tackle the virus, basic gym protocols are inevitably going to transform significantly. As a gym owner or facility manager, you will find yourself having to introduce further measures to uphold hygiene standards, including sanitisation, temperature screening procedure and beyond. Especially in a venue where equipment is commonly shared among a pool of people, here are 3 of the major rules that are mandatory for gyms to abide, among others:
All machines have to be placed at least 1 meter (or more, if possible) apart.
All visitors must check-in to your gym using the designated QR code.
All visitors must have their temperature taken and mask on before entering the premise.
However, that is not the end of the list. The next most crucial step is to ensure that commonly touched areas are appropriately and thoroughly disinfected to prevent bacteria and viruses from lingering.
In this article, you will be able to uncover how professional disinfection services can benefit your gyms and help them re-emerge in Singapore.
Exhaustively Disinfect Vast Areas and Hard-To-Reach Spots without Direct Contact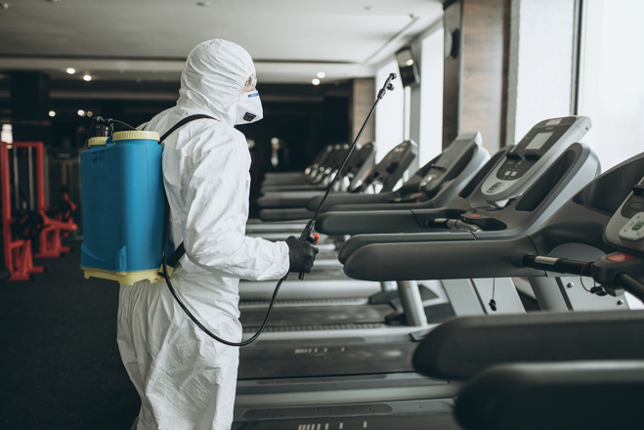 Unlike traditional manual disinfection method where cloth and a bottle of disinfection are required to get the ball rolling, today, you can expect the employment of modern technology when you opt for disinfection services in Singapore. Especially with the relentless spread of viruses, an increasing number of disinfection companies are supplementing traditional methods and increasing the efficacy of their disinfection practices to combat airborne pathogens. These processes are usually executed by the fogging method, which enables the professionals to wipe down the entire premise, with zero surface-contact. So, what exactly does the fogging process entails?
The fogging process involves the use of a machine to generate 'cloud-like' micron-size disinfectant droplets that will be dispersed evenly throughout the premise in a short span of time. Additionally, these ultra-fine droplets have the power to penetrate hard-to-reach areas, such as gaps in or underneath your gym equipment, where bacteria are often loaded. Think about the struggles you had when disinfecting equipment with odd shapes – well, this is going to be a hindrance no more.
Going beyond basic disinfection, professional disinfection services also help to destroy both airborne and surface-based bacteria and viruses in your gym, all in a heartbeat.
Maintain Its Effect Longer Than Ever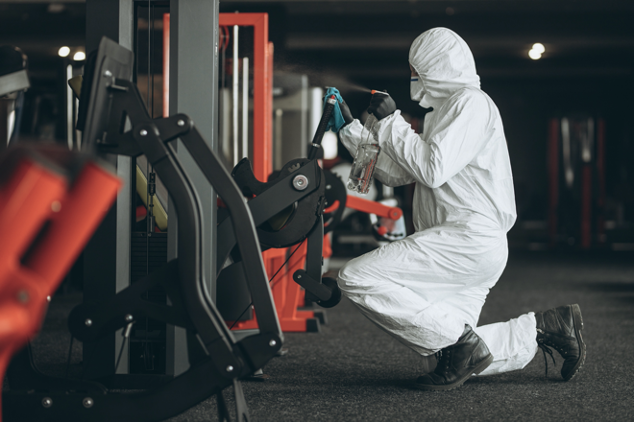 When you engage disinfection services in Singapore, you want its effect to last for the longest time possible. The good news is – with the fogging method, it can not only help you eliminate 99.5% of germs but warrant longer-term protection for your gyms too. During the process, a residual barrier is created on the surfaces of textiles and equipment, allowing for the disinfectant to remain active and ensuing prolonged protection.
Professional Disinfection Company Can Assist You with Your Cleaning Plans for the Long Run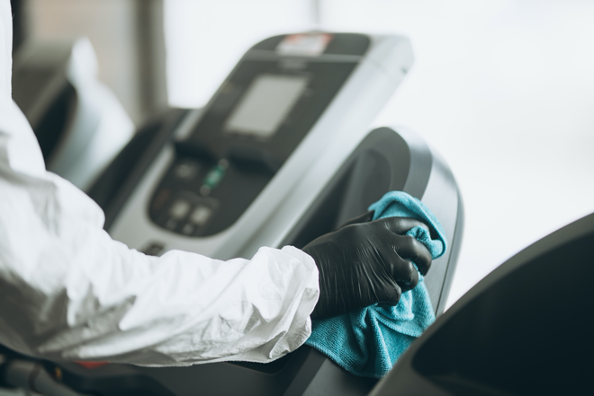 There is absolutely no doubt that the virus has dramatically changed consumers' benchmark for hygiene standards across the world. As fear continues to linger, consumers' demand for exceptional hygiene, cleanliness and safety protocols has reached a new high. With that said, the race towards building a safer environment for all should be a marathon and not a sprint. As we see a paradigms shift in the 'new normal', precautionary measures adopted should not be a one-off activity. While it is natural to assume that hygiene standards will remain strong in the weeks after reopening, gyms should continue to put in the extra effort of embracing these pragmatic steps permanently.
"So what's the next step?", you may ask. Well, you can certainly expect your engaged disinfection company to assist you in coming up with a long-term, holistic plan for the well-being of your members, and others.
True enough, the outbreak of the virus forces business owners to rethink their operational approach. It is about time that the world should come together to adapt and embrace this change.